Posts for tag: shingles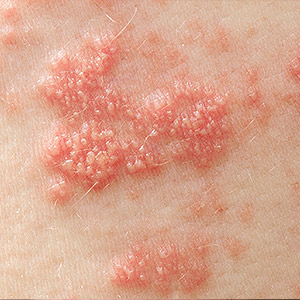 Most childhood sicknesses are highly treatable and quickly fade from memory afterward. But there's one viral infection that can reappear years later, albeit in a different form and this time it might not be as forgettable. It could even impact your dental care.
Varicella, more commonly known as chicken pox, is a viral infection that mainly affects children. Fortunately, the itchy blisters and other symptoms associated with it usually clear up on their own. But the virus itself, varicella zoster virus (VZV), can remain behind and become dormant.
Fast-forward a few decades, and the child once with chicken pox is now an adult, usually over 50. In 20-30% of former chicken pox patients, the virus reactivates as a new infection known commonly as shingles.
Shingles often begins with an itching, burning or numbing sensation on the skin that develops into a severe rash. Because of its effect on surface nerves, the rash often takes on a striped or belt-like pattern on the skin. A shingles outbreak can also cause fever, fatigue and pain, the latter of which in rare cases can be quite severe.
Shingles in its early stages is also highly contagious, transmitted easily through either physical contact with the skin lesions or through airborne secretions. This is especially troubling for certain groups: pregnant women, patients undergoing cancer or other serious disease treatment, or those with compromised immune systems. For them, shingles can pose a significant risk for complications.
Because of its easy transmission, and the danger it can pose to certain groups, dentists typically postpone treatment—even routine dental cleanings—for patients experiencing a shingles outbreak, especially a facial rash. Once their outbreak subsides, those procedures can be rescheduled.
If you develop what you think is shingles, you should seek medical attention as soon as possible. Certain prescribed antiviral medications can ease the symptoms and hasten recovery, but they're most effective if started within three days of the onset of the disease. There's also an effective vaccination for shingles recommended for people over 60 to help avoid the disease altogether.
One other thing! If you do develop shingles and have an upcoming dental appointment, let your dentist know. Better to reschedule your visit after you've recuperated than to put others' health at risk.
If you would like more information on shingles and dental care, please contact us or schedule an appointment for a consultation. You can also learn more about this topic by reading the Dear Doctor magazine article "Shingles, Herpes Zoster."
Shingles is a painful viral infection that could potentially recur in sufferers for years. It causes painful skin rashes, general nerve pain, fever and fatigue. In extreme cases, it can cause blindness if the eyes become infected. And because it's highly contagious, it could affect your dental treatment.
Formally known as herpes zoster, shingles is a recurrent form of chicken pox. If you contracted chicken pox in childhood, the shingles virus could lay dormant for several years. In fact, most people who contract shingles are over 50.
Because it acutely affects the nerves around the skin, the disease's most common symptom is a belted or striped rash pattern that often appears on one side of the body and frequently on the head, neck or face. While the severity of symptoms may vary among patients, shingles can be a significant health threat to certain people, especially pregnant women, cancer patients or individuals with compromised immune systems.
In its early stages, the shingles virus can easily pass from person to person, either by direct contact with the rash or by airborne secretions that others can inhale. Because it's highly contagious, even a routine teeth cleaning could potentially spread the virus to dental staff or other patients. Because of the significant health threat it potentially poses to some people, your dental provider may decline to treat you if you're showing symptoms of the disease.
To stay ahead of this, let your dentist know you're experiencing a shingles episode if you have an upcoming dental appointment, in which case you may need to reschedule. In the meantime, you should seek medical attention from your physician who may prescribe antiviral medication. Starting it within 3 days of a shingles outbreak can significantly reduce your pain and discomfort as well as its contagiousness.
And if you're over sixty or at risk for shingles, consider getting the shingles vaccine. This readily available vaccine has proven effective in preventing the disease and could help you avoid the pain and disruption this viral infection can bring to your life.
If you would like more information on dental treatment with shingles, please contact us or schedule an appointment for a consultation.