Posts for: October, 2017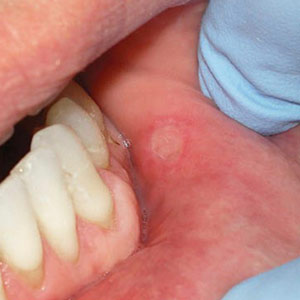 Sometimes it's the little things that can be most annoying. Those occasional small sores that pop up on the inside of your mouth are a case in point. Although in most instances they won't last long and aren't anything to be alarmed about, they can still cause you some discomfort.
These small sores are called aphthous ulcers or more commonly "canker sores." They are breaks in the skin or mucosa, the inner lining of the mouth, and occur most often on the inside cheeks, lips, tongue and occasionally on the soft palate at the back of the throat. They usually appear round with a yellow-gray center and an intensely red outer ring or "halo."
Canker sores often appear during periods of high stress or because of minor trauma, and usually last for a week or two. They often have a tingling pain that can be aggravated when you eat and drink acidic or spicy foods and beverages. About 20 to 25% of people have a form known as recurrent aphthous stomatitis (mouth inflammation) that occurs regularly with multiple sores and heightened pain.
It's possible to manage the discomfort of minor, occasional bouts with a number of over-the-counter products that cover the sore to protect it and boost healing, with some providing a numbing agent for temporary pain relief. For more serious outbreaks we can also prescribe topical steroids in gels or rinses, injections or other medications.
While canker sores don't represent a health danger, there are instances where you should take outbreaks more seriously: if a sore hasn't healed after two weeks; if you've noticed an increase in pain, frequency or duration of outbreaks; or if you're never without a sore. In these cases we may need to biopsy some of the tissue (and possibly run some blood tests) to ensure they're not pre-cancerous or cancerous.
In any event, we can work with you to reduce your symptoms and help the sores heal quickly. This particular "little thing" in life doesn't have to stress you out.
If you would like more information on mouth sores, please contact us or schedule an appointment for a consultation. You can also learn more about this topic by reading the Dear Doctor magazine article "Mouth Sores: Understanding and treating canker sores."
As if the preteen years didn't give kids and their parents enough to think about, new oral health concerns loom on the horizon. Along with major changes to the body, brain and emotions, additional risk factors for tooth decay and gum disease appear during adolescence — the period of development starting around age 10 and extending through the teen years that marks the transition from childhood to adulthood.
Even with declining rates of tooth decay across the nation, the cavity rate remains high during adolescence. According to the American Academy of Pediatrics, 1 in every 5 adolescents has untreated tooth decay. What's more, the onset of puberty — usually beginning around age 10-11 in girls and 11-12 in boys — brings changes in hormone levels that can affect gum health.
We all have millions of microorganisms in our mouth, representing hundreds of different species of mostly helpful, but some harmful, bacteria. Research has shown that total oral bacteria increases between ages 11 and 14, and new types of bacteria are introduced, including some that are not friendly to teeth and gums. Some unfamiliar microbes trigger an exaggerated inflammatory response to dental plaque, so gum bleeding and sensitivity are experienced by many children in this age group. In fact, "puberty gingivitis," which peaks around age 11-13, is the most common type of gum disease found during childhood.
A combination of hormones, lifestyle changes and poor oral hygiene habits raises the risk of oral health problems among adolescents. A more independent social life may be accompanied by a change in eating habits and easier access to snacks and beverages that are sugary, acidic (like sports drinks and soda) or full of refined carbohydrates — none of which are tooth-healthy choices. And as children move toward greater independence, parents are less likely to micromanage their children's personal care, including their oral hygiene routines. Good oral hygiene can keep dental plaque at bay, lowering the chance of having gingivitis and cavities. But let's face it: Adolescents have a lot to think about, and keeping up with their oral health may not be top of mind.
To help your preteen stay on top of their oral health, keep healthy snacks at home for your children and their friends and make sure you are well stocked with supplies such as new toothbrushes, floss and toothpaste. In addition, most preteens (and teens) can benefit from gentle reminders about oral hygiene routines.
For optimal oral health through all stages of life, make sure your preteen keeps up with professional teeth cleanings and exams, and talk with us about whether fluoride treatments or sealants may be appropriate for your child.
For more on your child's oral health, read "How to Help Your Child Develop the Best Habits for Oral Health" and "Dentistry & Oral Health For Children" in Dear Doctor magazine.